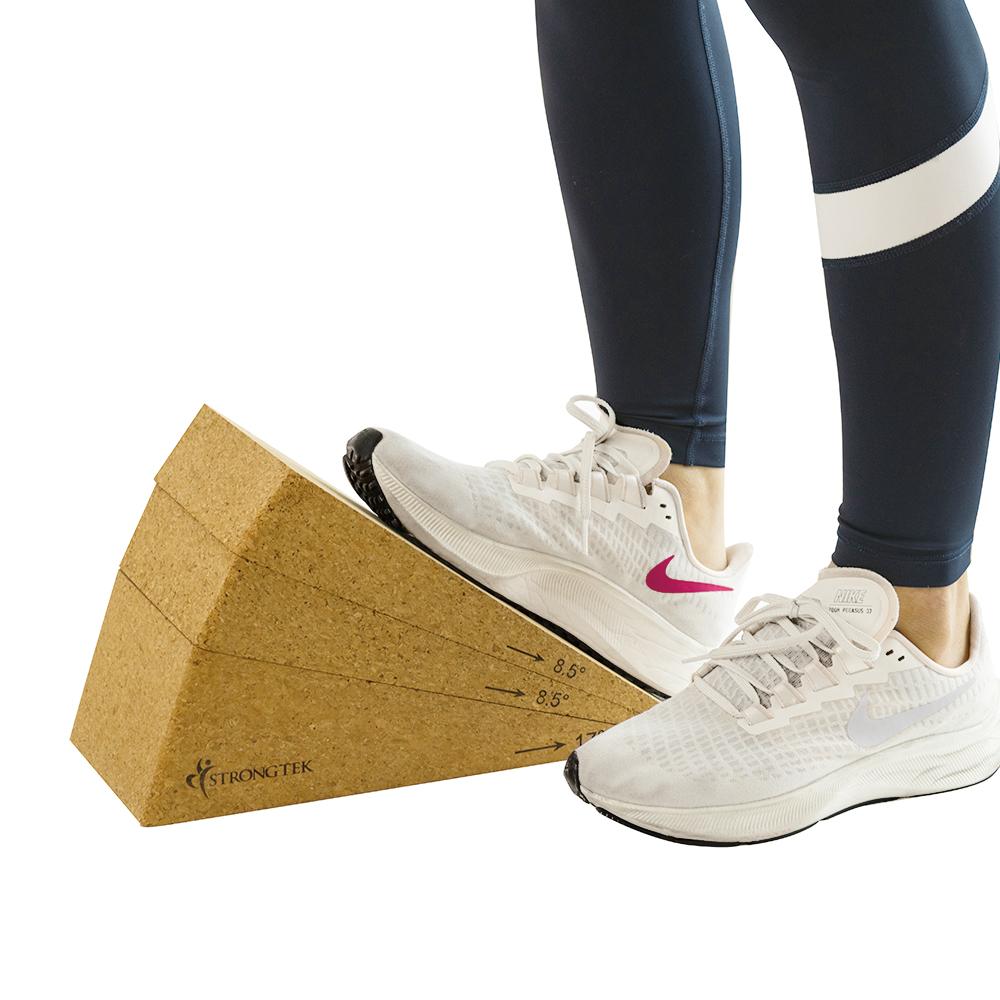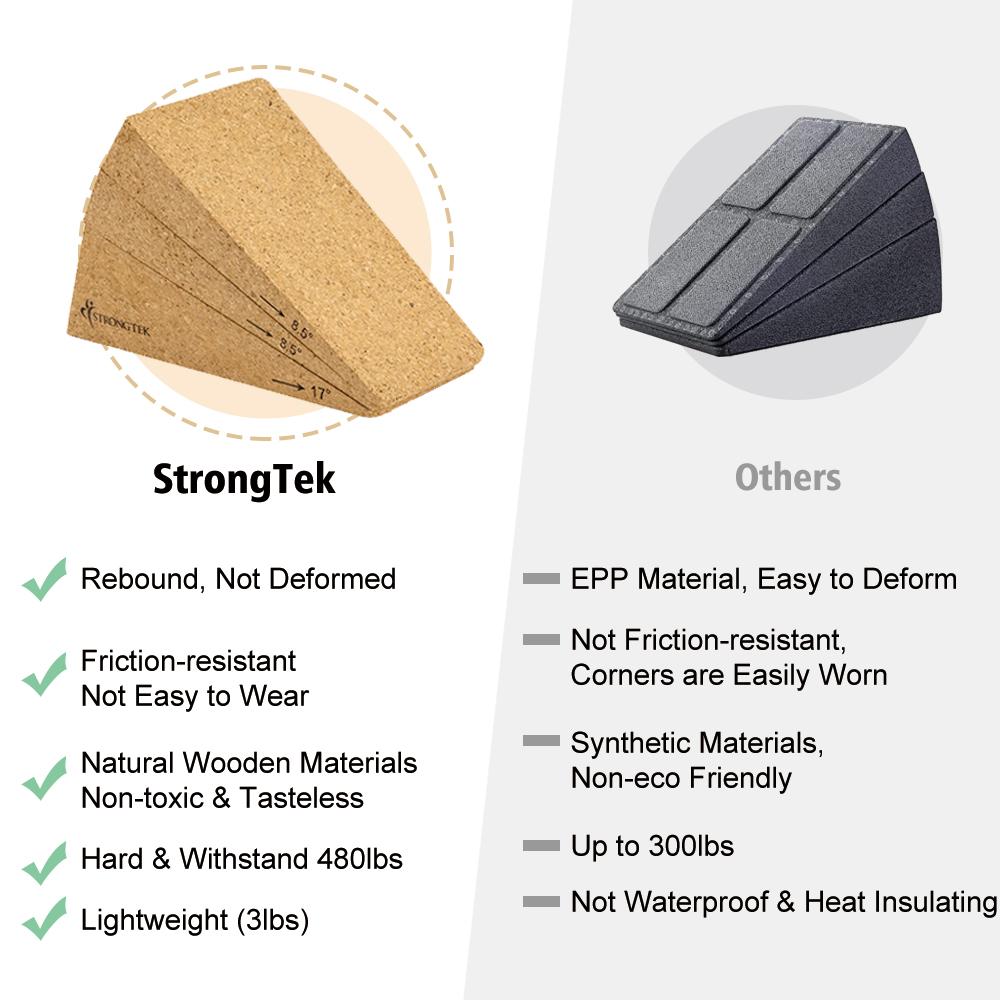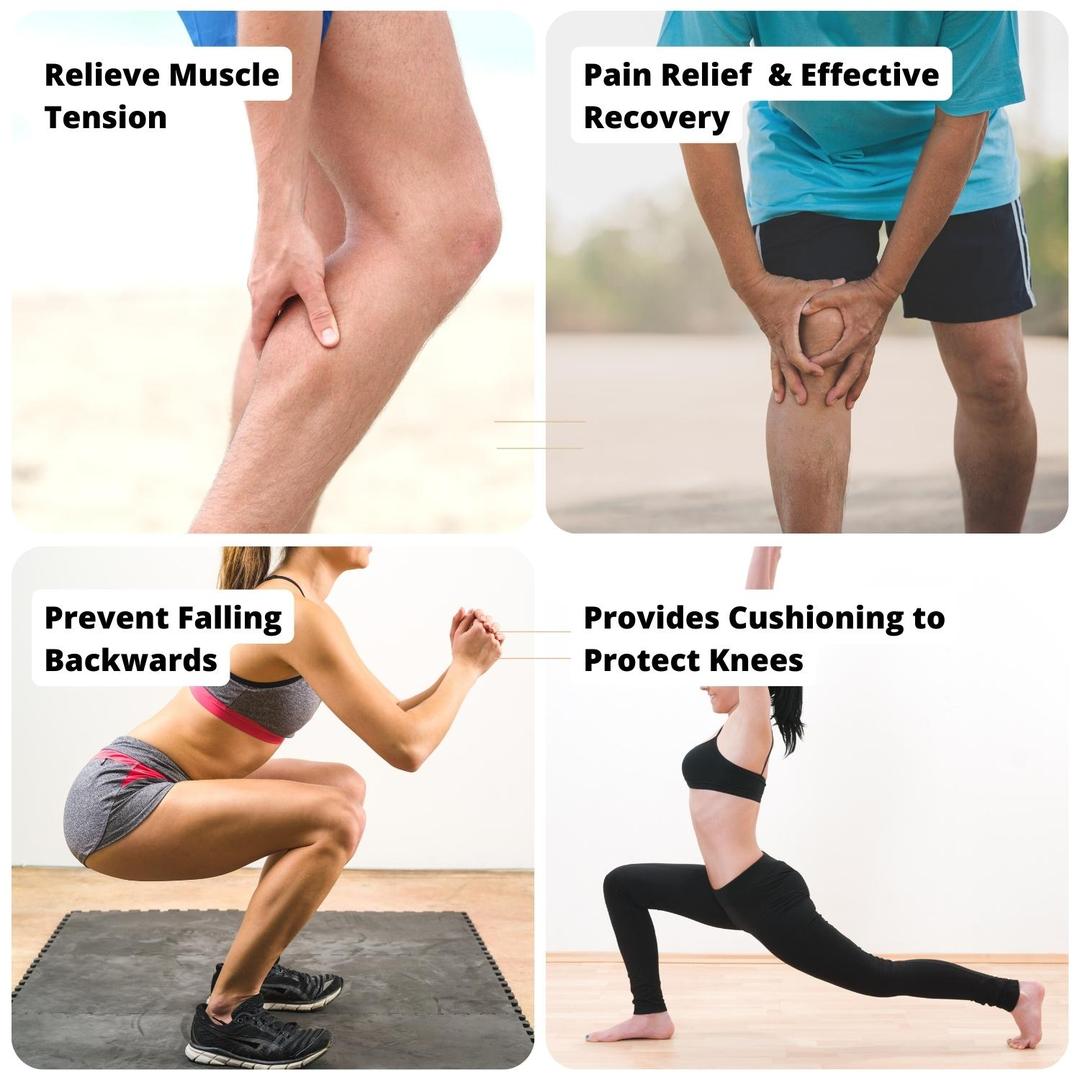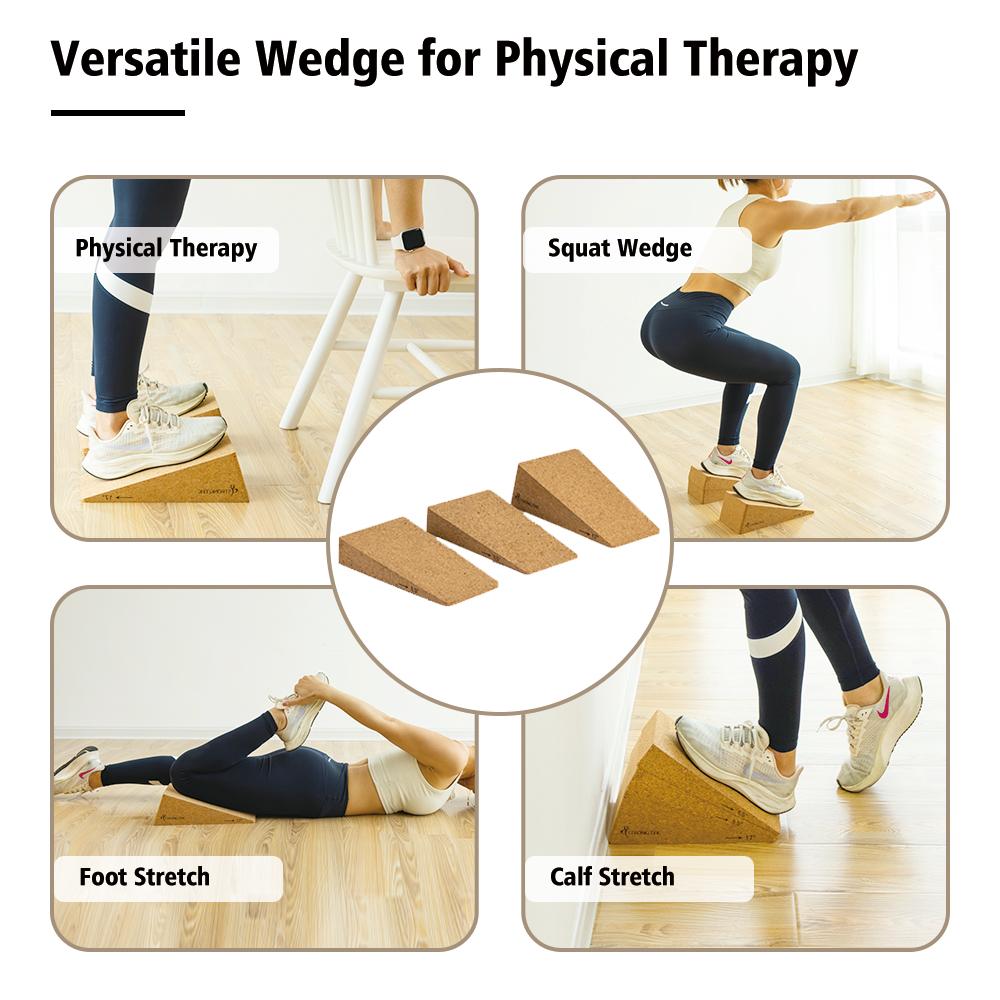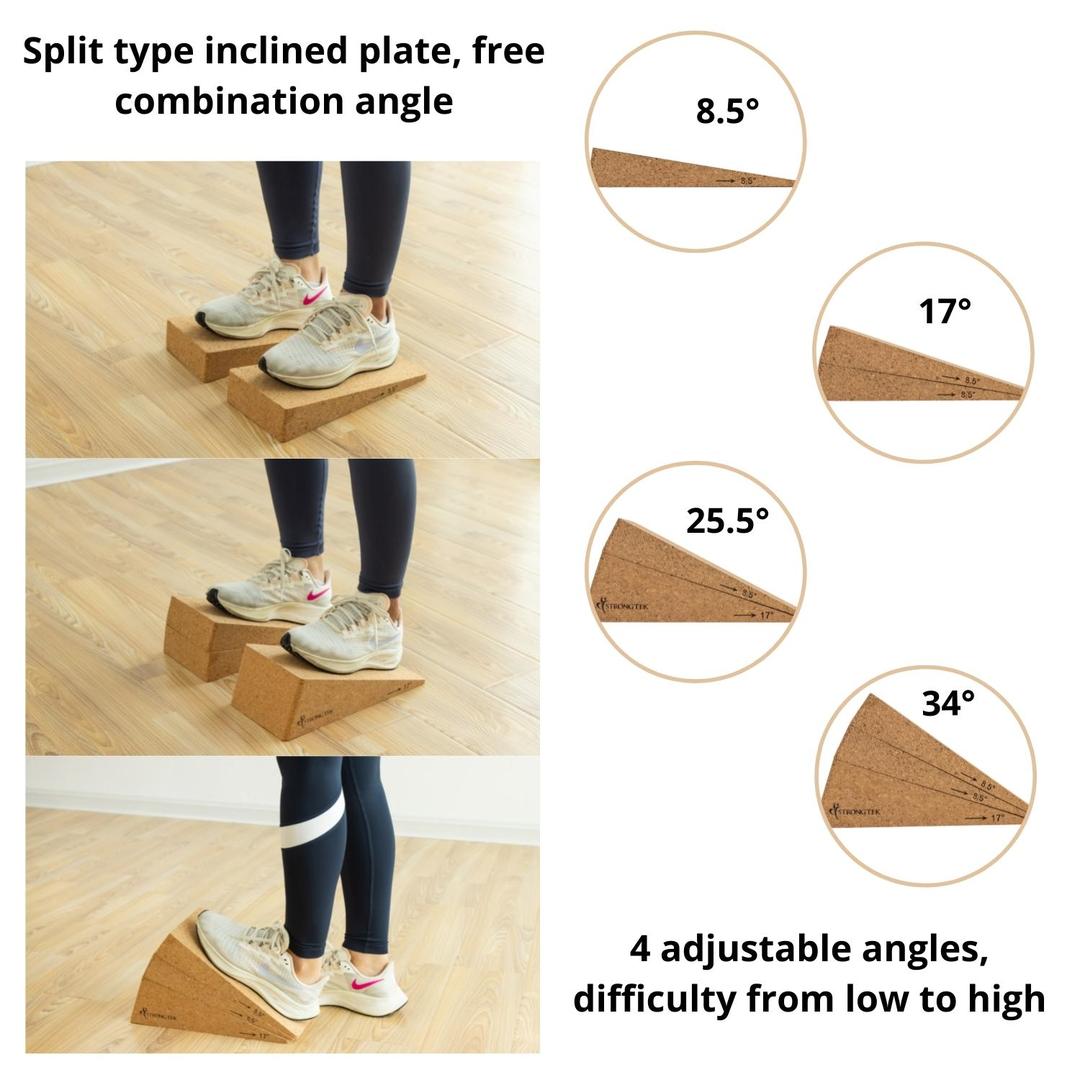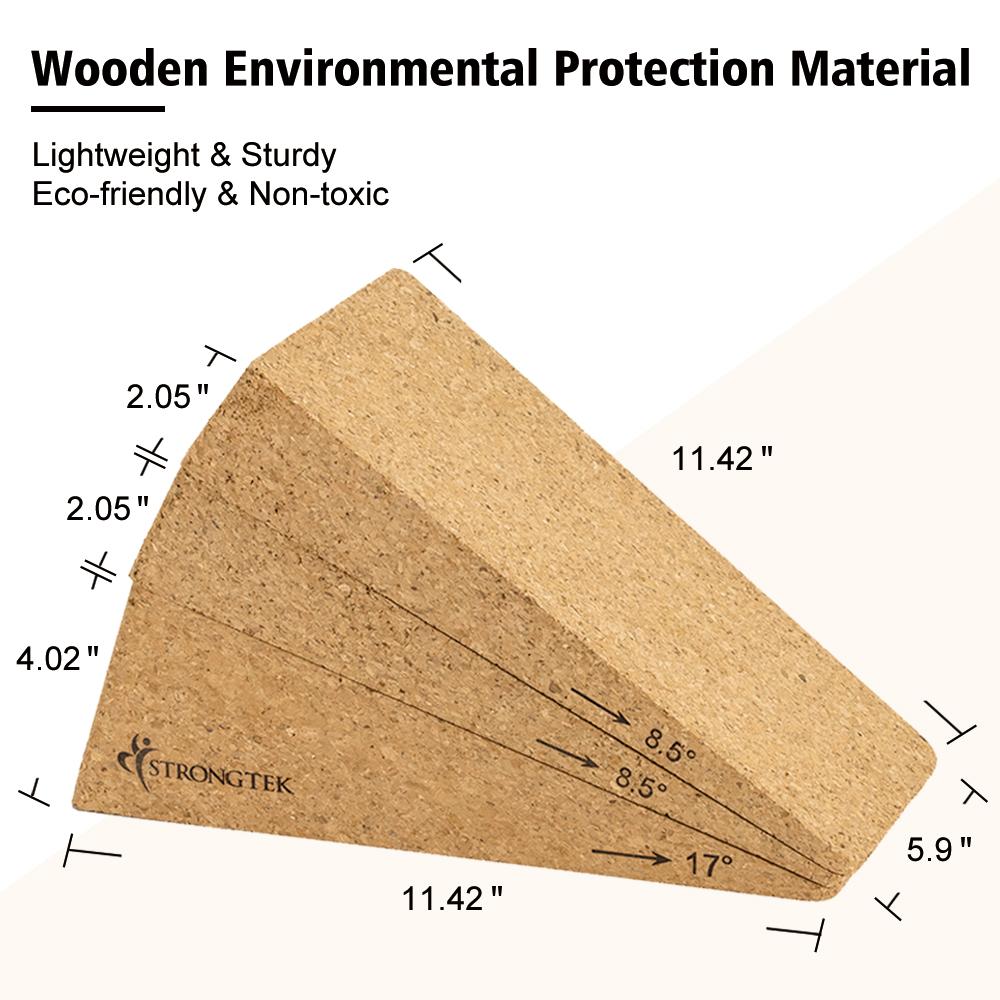 "I love it. It is light weight but very durable."
— Geese
CALF STRETCHERS, SET OF 3, CORK SLANT BOARDS, ADJUSTABLE, INCLINED EQUIPMENT FOR PHYSICAL THERAPY
StrongTek cork slant board set is a set of 3 cork boards made of sustainable high-density cork. It can help stretch your lower leg muscles to recover and prevent plantar fasciitis, achilles tendonitis, ankle injuries etc. Combine different slant boards for training according to your needs. The rough cork particle surface provides excellent grip to avoid slipping during exercise.
100% No-Risk Money Back Guarantee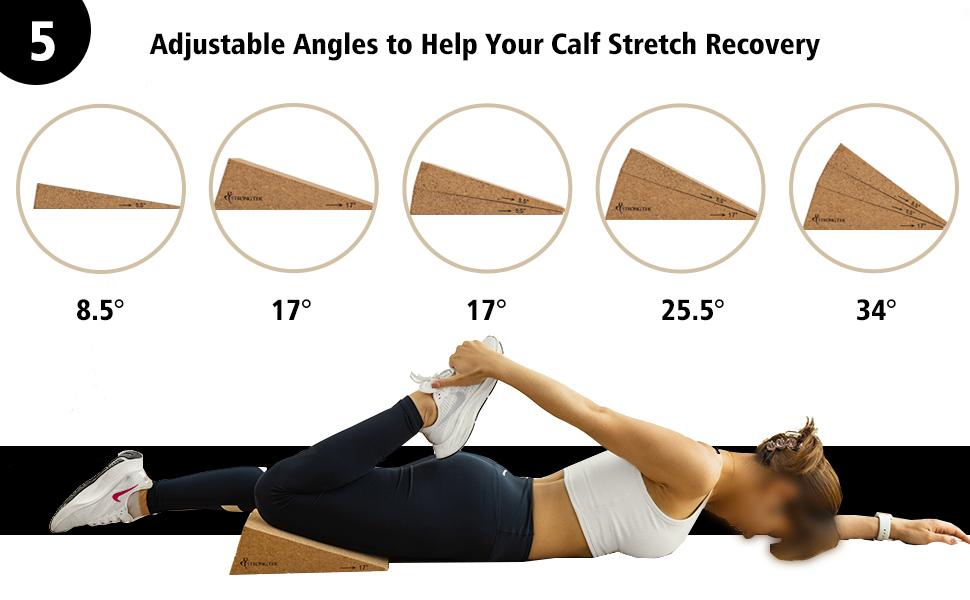 Multiple Angles
8.5/ 8.5 Begin with smaller wedges.
Position your feet parallel at an angle of 8.5 degrees17/8.5+8.5 Step on the larger wedge of 17 degrees with one foot.
Then stack the two small wedges of 8.5 degrees on top of each other to make 17 degrees for the second foot.
17/8.5 Another combination is to use an 8.5-degree wedge on one foot, and a 17-degree wedge on the other.
17+8.5 If you want even bigger differences, use the 8.5-degree wedge on one leg and the 17- degree wedge on the other leg.
17+8.5+8.5 For the most intense stretching. Stack all three wedges on top of each other and get the steepest angle of 34 degrees.
Multiple Advantages
1. Therapeutical Equipment - Slant board is a useful device for the prevention and treatment of plantar fasciitis, Achilles tendonitis, heel spurs, shin splints, Achilles tendon injuries, calf strains, and other foot and ankle injuries.
2. Relieve Muscle Tension - It can also help fitness enthusiasts and sedentary office workers release tense muscles that normally cannot be stretched.
3. Multi Angle Stretching - There are multiple angles to meet the stretching needs of different difficulties. Choose different slant boards for training according to your needs.
4. Easy To Carry - The cork calf stretcher is light enough for you to take anywhere, you can use it in the gym, office, home and even outdoors.
5. Practice Anytime, Anywhere - If you do not know how to start, you can train effectively with our product manual.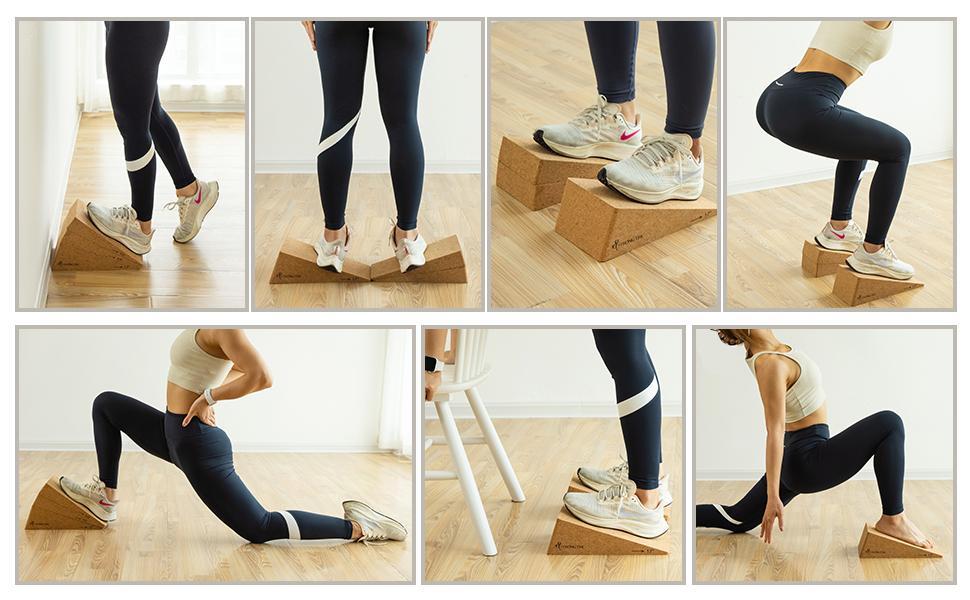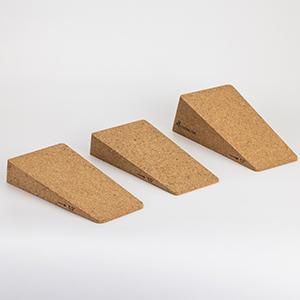 The slant board for calf stretching consists of 3 wedges: two small wedges with 8.5 degrees each, and one larger wedge with 17 degrees. When fully assembled, their maximum angle is 34 degrees.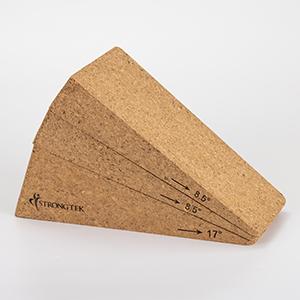 When the muscle fascia is tense, the initial height should be lower. However, as flexibility increases, the height can be increased.

Frequently Asked Questions
What are the diminsions of the wedges?

It's approximately 9 x 2 1/2 x 4. 3/4 inches.


Is the material of this block eco-friendly?

Yes, the squat wedge is made of sustainable high-density cork, which is odor-proof, moisture-proof, non-deformable, and durable. After being discarded, the raw materials can be recycled.


Lysol spray and paper towel. Just don't get it too wet and it will be fine.

Move. Stretch. Relax. Health.
To develop the highest quality products made from eco-friendly materials, that outperform typical workout equipment.
Our commitment to developing innovative, stylish, and comfortable products is making an enormous impact, not just on sports and fitness enthusiasts, but anyone looking to easily incorporate more activity into their day. You'll see an increase in ease of movement and better posture, creating a happier, more active life.